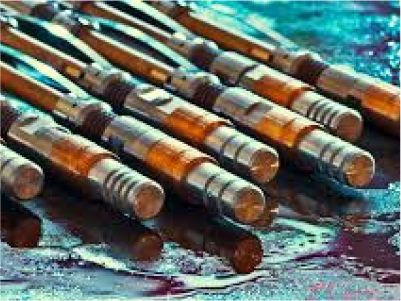 It is our commitment to provide our customers the accuracy of the well path to minimize the well bore effect of inclination changes.
This can cause extreme dog leg severity and also affect the true vertical depth (plus/minus) even while drilling with steerable bottom hole assembly. This is a major obstacle in the production of the well bore.
A directional survey by Vaughn Energy Services will produce very reliable data that pinpoints the exact position of a borehole or well path. Our Gyro equipment is conveyed on electric line and slickline. The main objective of any Vaughn directional survey is to save our client's money by determining the optimal method of drilling a quality wellbore, in the shortest time possible, under those specific circumstances and in that particular environment.
Our surveys are able to accurately model and predict critical factors such as torque/drag, bit hydraulics, pressure loss output and coefficients of friction. And to develop a viable directional drilling solution for your particular project, we consistently take into account design and environmental parameters such as offset well performance, formation type, well plan trajectory and build requirements, desired ROP, hoisting equipment limitations, MWD/LWD working requirements, surface equipment limitations, and hole cleaning requirements.
Vaughn Energy Services Limited performs wireline services to set flow control on various devices within an oil or gas well, as part of a clean-out process, or to place instruments that will measure temperature and/or pressure to
get a clearer picture of the situation within the well. This is accomplished by running a single or multi-strand wire into the well.
Maybe most importantly, our wireline services can easily be performed while your well is under pressure. Production continues unabated during the exercise, and no time is lost.
The pressure control equipment used by Vaughn wireline services can withstand the harsh extremes of pressure up to 15,000 pounds per square inch and extremely high temperatures. It can also withstand the wide array of corrosive substances that inhabit an oil or gas well. The pressure control equipment used by Vaughn Energy Services comes in various sizes for various applications. Our smallest unit can be used in a borehole as small as an inch and a half in diameter, while our large units traverse holes as large as nine inches in diameter.
Coiled Tubing/Pumping Services For Pipelines & Oil/Gas Wells.
Vaughn Energy Services Limited is into pumping services and has a whole range of pumping and other equipment for various oilfield pumping services. Vaughn Energy Services Limited has experienced and well trained engineers, technicians and Pump operators to deliver superior service when it comes to oilfield pumping services.
DD, MWD & LWD (Real-Time)
Vaughn Energy Services Limited specialises in Directional Drilling, Measurement-While-Drilling and Logging-While-Drilling operations, our directional drilling team brings together personnel with a broad range of skills and experiences, working in some of the most challenging environments across Nigeria and Gulf of Guinea.  Reliable products, improved/ latest technology, accurate measurements, experienced personnel and operational flexibility, combine to deliver projects successfully in less time frame and cost-effectively.
Another important aspect of our service line is the procurement and supply of equipment, machinery, spares, material and chemicals etc to the energy, service and allied sectors of the Nigerian economy. Vaughn sources products from local or international manufacturers or their appointed representatives. This has sustained our growing tradition of servicing every purchase order with very high quality and standard products to the utmost satisfaction of our highly valued clients. We have well trained team with deep experience and understanding of the local and international sourcing market and supply chain management. With track record of several successful project materials delivery for our clients. Vaughn is a leader in providing turnkey procurement solutions. We have selected suppliers and vendors who are passionate for excellence and primarily focus on quality , schedule and price. In summary, the procurement and supply department of Vaughn Energy Services Limited focuses on the following lines of product:
Vaughn provides surface well testing services and products including planning, specialized equipment, and monitoring and measurement of all factors relating to the production of oil, gas, and water at a well site. The end result is complete, accurate and reliable data so clients can make critical decisions regarding additional testing, production methods, secondary-recovery programs, and developmental drilling.